Community, Partnerships and Awards
We are proud to have 'community' at the heart of our school. We celebrate the difference women have made locally, nationally and internationally. Annual events such as Make a Difference Day, Black History Month and our Inter-Generational Projects put equality and diversity at the centre of our school. Our students have sponsored many charities during these events through ingenious fundraising activities.
Our students support and regularly fundraise for the charity,
Commonwealth Girls Education FundThe CGEF helps girls to complete their secondary or high school education in their own Commonwealth country in cases where, for economic reasons, this might not otherwise be possible.
As part of our community links, we work closely with our local primary schools and with other schools locally and nationally, particularly through the;
Association of Maintained Girls Schools
International Partnerships
Our International Programme partners with schools from around the world to provide visiting pupils with the opportunity to attend an English school whilst visiting the UK. Visiting pupils are given an Eltham Hill School 'buddy' – a pupil from a year group of similar age – who they will shadow and attend academic lessons with.
Since September 2016, we've had visitors from Thailand, Belgium, China and Netherlands.
Awards
CPD Award

Developed in 2008, the Continuing Professional Development Mark is an independent Assessment scheme designed exclusively for the education sector in the UK to ensure that schools and colleges have effective systems in place to identify and fulfil the development needs of all staff. This, in turn, leads to a focus on:
leadership
management
curriculum
assessment
teaching and learning
standards of achievement
support and guidance
partnerships
pupils' personal development and well-being
Artsmark Gold

Artsmark gives every child the opportunity to create, compose, and perform, gain knowledge and understanding, and to visit experience and participate in extraordinary work.
Benefits to students:
building confidence; resilience and drive that will help children grow into happy, articulate, successful young people
arts and culture unlock potential helping children and young people develop character and talent, knowledge and understanding
introduce the joys of creating, performing and composing
Governor Mark

Governor Mark is a national award. It is a kite mark which provides external evaluation of the quality of governance in a school.
This is a challenging award. Not only does a governing body need to show that it follows good procedures and fulfils statutory duties, but there is a high value placed on evidence of impact – the difference the governing body makes to a school.
FairAchiever School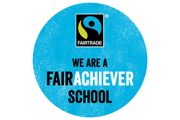 Our school is committed to supporting, using and promoting Fairtrade, wherever possible. We believe that Fairtrade can make a difference to the lives of young people throughout the world by improving living and working conditions for the people who grow the things we buy.
TfL STARS Bronze Kite Mark for School Travel Plan

Our STARS award recognises our work in inspiring our students to travel to school sustainably, actively, responsibly and safely by championing walking, scooting and cycling.